How to Make MIDI Sound Better Lanuages: El espaņol - No Frames
Recommended plug-in - Quicktime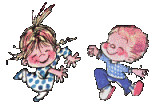 We create musicals for school and/or church that children and adults will love!
All Programs contain complete and simple to follow instructions for staging, choreography, speaking parts, lyrics, and accompaniments.
"25 Children's Favorites", full performance or accompaniment CD, tape, or MIDI files are available.
Music 4 Kids & More will also create a program for you to suit your needs. Your complete satisfaction is guaranteed.
Contact for more information.

My Favorite Links:
Stan Owen, Jr. of Creative Minds' Music: (frames) or (no frames)
Professional Organizations and Links:
Home

Site Meter